Spring 2021 Newsletter – Lisiate's Story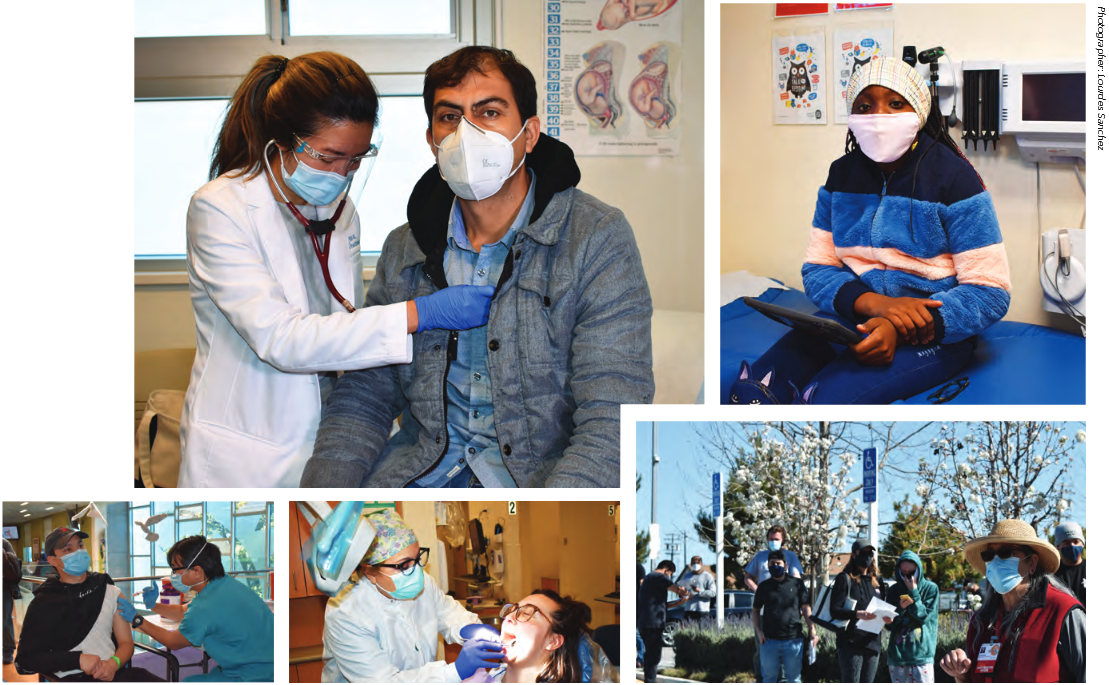 Lisiate and his wife have been patients of Ravenswood Family Health Network since 2017. He has been seeing his Ravenswood physician, Dr. Karim, regularly to keep his diabetes and high blood pressure under control.
Lisiate is thankful that Dr. Karim takes a holistic approach to his health and does not just treat him as a problem, but as a person. Dr. Karim takes the time to listen to Lisiate so that she can fully understand his overall health and health concerns, and guides him through possible solutions.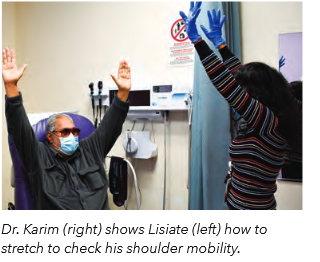 In November, Lisiate experienced pain in his shoulder and was unable to raise his arm to 90 degrees. Dr. Karim referred him to get an x-ray of his shoulder. At Lisiate's follow-up appointment with Dr. Karim, she presented the x-ray to him, explained what was happening in the image, and diagnosed his pain. He had glenohumeral arthritis and a frozen shoulder. Glenohumeral arthritis is the wearing and degeneration of cartilage in the joint of the shoulder, and a frozen shoulder is a condition characterized by stiffness and pain in the shoulder joint. Dr. Karim referred him to physical therapy where he was advised to perform physical exercises to address these issues. Lisiate is pleased to have solutions that can help his condition.
Recently, Lisiate learned that given his and his wife's age group, they were eligible to receive the COVID vaccine. Lisiate was excited when he found out that he and his wife were eligible to receive the COVID vaccine at Ravenswood and made appointments for himself and his wife right away! He said, "I trust the medication [vaccine] to fight against the pandemic." Lisiate and his wife were so happy and relieved when they received their first dose of the vaccine. A day before his second dose, he proclaimed, "I am very happy to know I am safe, and tomorrow when I get my second vaccine, I will be even more confident in my health in regards to COVID-19." Now that Lisiate and his wife are both fully vaccinated for COVID, they can focus on supporting each other and maintaining their health.
From keeping his diabetes and high blood pressure under control, addressing shoulder pain, to getting vaccinated to protect himself against COVID, Lisiate knows that Ravenwood will always be there for him. Lisiate wants you to know, "Your support is worth it for people like us – elderly and high-risk people!"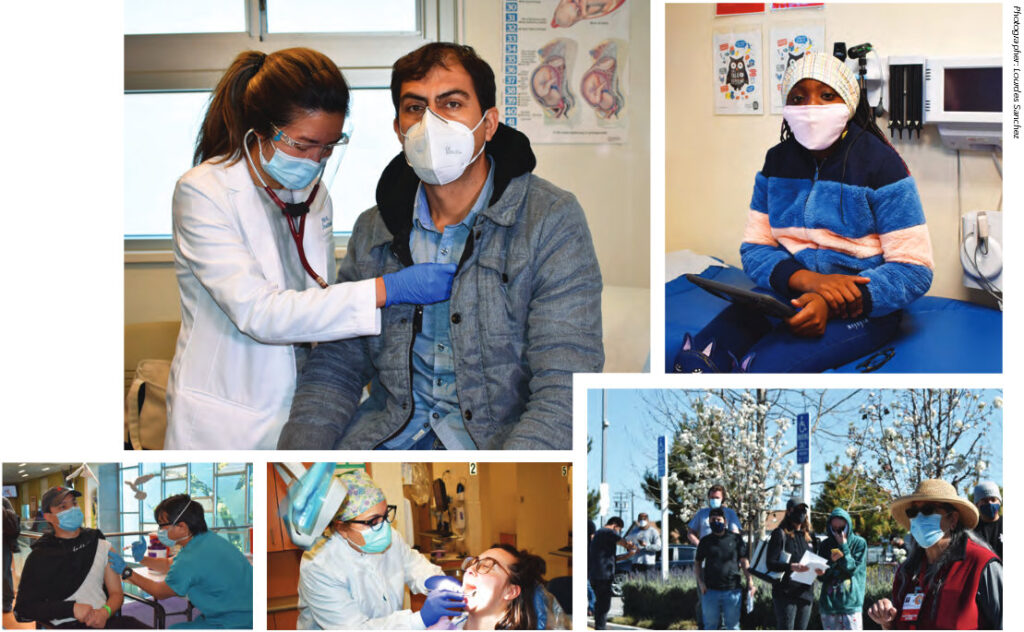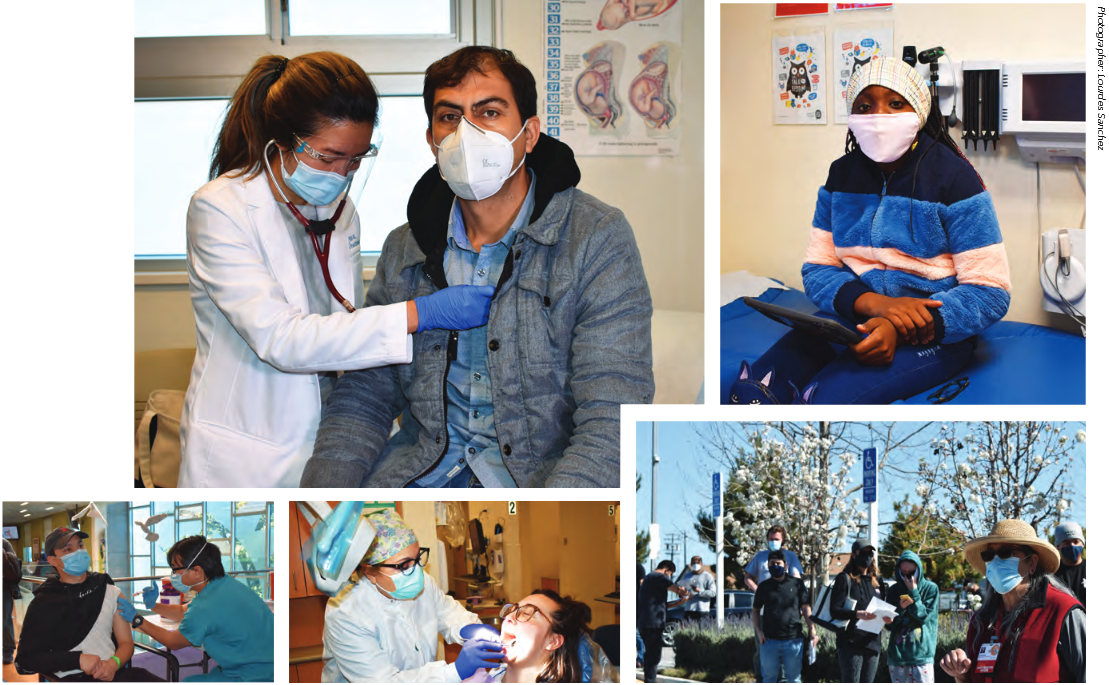 Letter from the CEO
The COVID-19 Pandemic has reshaped all of our lives and definitely reshaped how we deliver and receive health care services today. Amazingly, just one year after the pandemic began, effective vaccines became available to help us stop the spread and bring us hope that we may soon return to normal living and working.
Ravenswood Family Health Network began our COVID-19 Vaccine rollout in January 2021. To date, we have administered over 15,000 doses to patients and community members. As a community health center, we believe our prevention mission requires us to offer community wide vaccines. COVID-19 has disproportionally affected the communities we serve—in terms of health, children's education, incomes, access to food, shelter, stable work, and much more. Participating in COVID-19 vaccine delivery is essential to protecting ourselves, our loved ones and our community from further illness, hospitalization and death.
Currently we offer six weekly vaccine clinics. Two are open to the community. To make it easier for our people to access vaccines, we provide barrier-free COVID-19 vaccine events. They are walk-up—no appointment necessary while supplies last. We provide in-person interpretation in multiple languages, help people fill out forms, and efficiently vaccinate from 150-250 individuals and hour. This would not be possible without our dedicated managerial and operational staff putting in lots of overtime to lead our mass vaccine events as well as our volunteers. We have over 400 amazing volunteers recruited from Letter from the CEOour donors; Rotary; City of East Palo Alto staff; City of Menlo Park staff; Facebook; nonprofits like Belle Haven Action, Emoja, and Nuestra Casa; and health care partner staff from Stanford, Kaiser, El Camino Hospital, and San Mateo Health System. We have retired clinicians and Encore physicians; nursing students; medical students; and aspiring students who want to go into health care; and just wonderful folks who care.
Every time we finish a community vaccine event, we are joyfully tired and inspired. Each vaccine event fills us with hope that there will be a future without COVID. We hope you are staying safe, getting vaccinated and beginning to enjoy an expanding personal bubble! Together in Health, Luisa Buada, RN, BSN, MPH, Chief Executive Officer
In the Time of COVID-19
On top of providing comprehensive healthcare services, our staff have been working diligently to meet evolving health guidelines and keep patients safe during the COVID-19 pandemic. As we enter spring, we are very grateful to see that the hard work of our community and health care workers is paying off, as the surge we experienced in winter is declining back to pre-surge levels. In addition, providing COVID vaccines and testing to our community has provided hope, as we can begin to see a path out of the pandemic.
Our first major COVID Vaccine Clinic was held on January 30th, where 1,235 individuals were vaccinated by our organization. At this event, we successfully administered all vaccines in a timely manner due to the hard work of over one hundred staff and volunteers. "It takes a large team to run vaccine clinics. We make sure we have 'Team Captains' for each area," says Ravenswood's Senior Director of Clinical Operations, Natalie Hodgen. Natalie, who oversees our vaccine clinics, has been key in assigning roles, updating regulations, and tracking and resupplying our vaccines. Currently, we are holding COVID Vaccine Clinics for registered patients and eligible community members working or living in East Palo Alto, Belle Haven, or North Fair Oaks.
COVID VACCINE CLINICS

As of April 24, 2021, we have conducted 3,436 COVID tests and 14,460 COVID vaccines have been administered. We could not have done this without our staff, volunteers, and partner organizations. While it is hard work, it is worth it. Ravenswood's Board Member, Melieni Talakai, shared, "as a resident and a board member of Ravenswood Family Health Network, I am grateful for the vaccines that have been sent our way and look forward to seeing more."
On April 10, we held our first COVID Vaccine Clinic on Facebook's campus in Menlo Park. With the assistance of Facebook, the County of San Mateo, the City of East Palo Alto, and the City of Menlo Park, we administered 1,180 doses of the COVID vaccine at our first COVID Vaccine Clinic on the Facebook campus.
IT TAKES A VILLAGE

We are truly grateful for our dedicated staff and volunteers who have been a part of the success of each vaccine clinic. Our staff has worked long nights and weekends, and many community members stepped up to help out. For volunteers like East Palo Alto City Councilmember, Antonio Lopez, "directly helping out the patients of Ravenswood, who are primarily undocumented and immigrants, is personal," says Antonio. Community members, funders, partner organizations, civic leaders, and legislators have volunteered their time—from conducting outreach, providing us space to vaccinate individuals, helping at vaccine clinics, to donating supplies.
You can read more in our PDF document "Spring 2021 Newsletter".