Chiropractic Care offers natural, non-invasive pain relief to patients who suffer from acute to chronic pain, muscle strain, back and neck pain, joint discomfort, headaches, and a variety of common illnesses. Chiropractic uses specific spinal adjustments that affect the nervous system, and by doing so affects all other systems of the body.
Treatment/Chiropractic Spinal Adjustments
Chiropractic treatments usually involve spinal adjustments. A spinal adjustment is a treatment that uses pressure on a joint of the spine. It is used to improve pain and function. Chiropractic adjustments can be done with the hands or special chiropractic instruments. The careful, controlled force used on the spine can range from gentle to strong, and from slow to rapid.
Sometimes other joints of the body are also worked on to help treat the spine. Patients will generally be provided with their first treatment at the conclusion of the appointment. Treatment is interactive with you so you can express any concerns you have about the style of adjustment you will be most comfortable with.
Other types of treatment may include: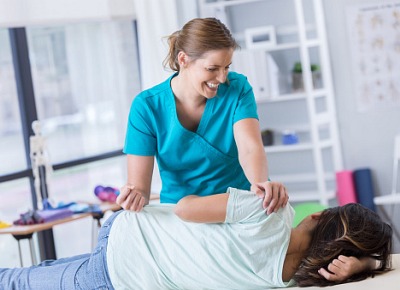 Core Strengthening or Conditioning Exercises
Strength and conditioning exercises
Locations
Ravenswood Family Health Center Main Clinic: 1885 Bay Road, East Palo Alto, CA 94303
MayView Mountain View Clinic: 900 Miramonte Avenue, 2nd Fl, Mountain View, CA 94040
MayView Sunnyvale Clinic: 785 Morse Avenue, Sunnyvale, CA 94085
MayView Palo Alto Clinic: 270 Grant Avenue, Palo Alto, CA 94306
Contact Us to Confirm Hours and Appointment Availability At (650) 330-7400